If you're searching for an HVAC repair company, it's vital that you find the right contractor for the job. You want to ensure quality repairs but not overpay for needed services. Also, you don't want to waste time calling company after company just to find a qualified repairperson!
When choosing an HVAC repair company, consider:
Years of industry experience
Reputation and online reviews
Licensing and other accreditations
Guarantees and warranties
Services offered
Home estimate
Availability and responsiveness
Since HVAC repair isn't always cheap, it's good to check out these recommendations in more detail. This ensures you choose the right HVAC repair company for your needed services.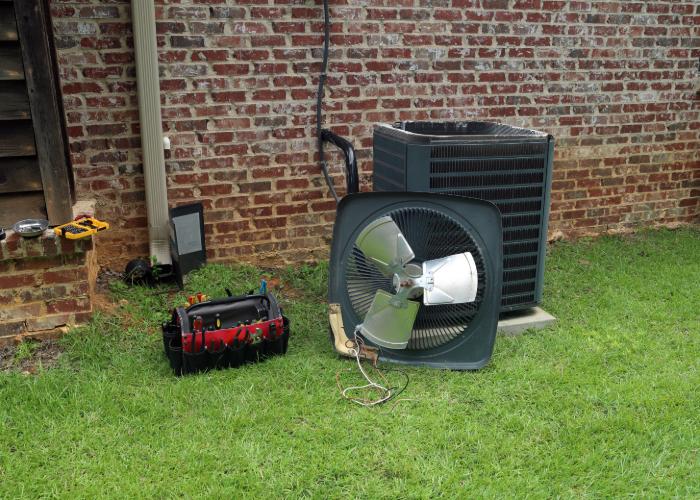 1. Choose an HVAC Repair Company With Experience
Industry experience is vital when hiring an HVAC repair company. Why is the experience so important for AC repairs? First, experience helps a contractor diagnose needed fixes and perform repairs quickly. Also, over time, a contractor learns what various issues with an appliance might indicate.
For example, an experienced contractor might immediately recognize loud squeaking and squealing from an AC as damaged bearings! Rather than having to take apart the entire appliance, they might start by checking those bearings. On the other hand, inexperienced contractors might waste valuable time just trying to diagnose signs of damage.
2. An HVAC Contractor Should Have a Great Reputation
Online reviews allow you to check the reputation of any HVAC company you might hire. While one negative review might be a fluke, carefully consider anyone with several damaging comments. Those negative reviews can tell you that he or she isn't a reputable, reliable repairperson.
Also, look for patterns in reviews that tell you about their work. Repeated comments about their response time or professionalism can tell you that you've found the right company! You can also find someone who offers the particulars you need for your property. For instance, if you need emergency repairs, look for someone with a good reputation for responsiveness.
3. Don't Overlook Necessary Licenses and Accreditations
Avoid any contractor who can't produce a valid state license! In fact, most reputable contractors post their license numbers on their website and marketing materials. This allows you to double-check that license with your city or county as needed.
Additionally, a contractor should have liability insurance, which protects you in case they damage your property. You might consider any other accreditation or professional association, such as with the Better Business Bureau and local unions. If they're in good standing with these organizations, that typically means they offer reputable services.
4. A Reputable Company Guarantees Their Work in Writing
When searching for an HVAC repair company, never hesitate to ask about their warranties and guarantees. A reputable, reliable contractor should be happy to explain those guarantees even over the phone. However, it's vital that they stand behind their work in writing. A written warranty ensures they'll address any problems after their services and repair or replace appliances that don't last.
5. The Company Offers the Services You Require
A general repairperson might offer a few standard HVAC services such as replacing filters and belts. Cleaning companies might also offer to clean AC compressors and interior ducts and vents.
On the other hand, an experienced and competent HVAC repair contractor should offer a range of services. This includes repairing or replacing fans, motors, and compressors. Expert contractors should also offer appliance replacement when needed. Why is it important to check the services offered by an HVAC company?
Companies with limited services might lack the training and experience needed for expert repairs. Also, you don't want to have a contractor arrive at your property only to find that necessary fixes are outside their area of expertise! To ensure you choose a skilled and competent contractor, pick one that offers comprehensive repairs and new appliance installation.
6. Reliable HVAC Companies Offer In-Home Estimates
Many reliable, reputable HVAC repair companies have set prices for certain repairs. However, they avoid diagnosing needed fixes over the phone! A contractor can guess what certain sounds or other issues might require when it comes to repairs. Also, they can tell you the price if your appliances need various repairs.
However, a reputable contractor will never tell you exactly what your property needs without inspecting appliances first. One reason for this is that certain sounds and other issues can indicate a variety of needed fixes. Two, those appliances might be broken beyond repair and need replacing. In turn, avoid hiring a contractor who attempts to diagnose fixes without an in-home visit first.
7. Your HVAC Contractor Should Be Available and Responsive!
When searching for a contractor, remember that the best HVAC repair company is available and responsive. This includes offering fast response times for urgent calls and HVAC shutdowns. Availability and responsiveness reflect their professionalism and how much they care about offering expert services!
A contractor should also keep you informed of any changes to their response times. For instance, if a replacement appliance is out of stock, you should get a call or text! This allows you to choose another appliance or otherwise adjust your preferences.
Should You Worry About Price When Choosing an HVAC Contractor?
When reviewing this list, you might notice that nothing is said about pricing! One reason for this is that the cheapest repair contractor isn't always the best. An inexperienced contractor might lower their prices simply to "drum up" business. In turn, you might pay less but end up with poor-quality repairs.
Also, a reputable contractor only uses reliable, durable parts for repair and replacement. Those parts might cost more but they'll last longer and ensure expert fixes. Consequently, don't assume that the cheapest contractor is the best for the job. You might pay more for a reliable repairperson, but those repairs are likely to last.
Humble HVAC Repair Pros is happy to offer this information about choosing an HVAC repair company. Hopefully you found these tips practical and useful! Also, if you're looking for expert services and are in the area, call our Humble HVAC repair contractors. We offer guaranteed repairs and always endeavor to accommodate emergency calls. To get your system started on the fixes it needs to have done, contact us today.