Many people are exploring how to start an HVAC business these days. The industry is booming because it's a necessity. How profitable is the HVAC industry? Very! Everyone needs heating and cooling services.
Starting your own HVAC business can be a rewarding venture if you have the necessary technical expertise combined with strong business acumen. 
Follow this beginner's guide to get your heating, ventilation, and air conditioning company up and running in 11 easy steps. 
1. Make Sure You Have the Right Skills and Knowledge
Starting an HVAC business requires having substantial technical skills and knowledge related to heating, ventilation, and air conditioning systems. At a minimum, you'll need to know how to properly install, maintain, and repair HVAC equipment like furnaces, heat pumps, air conditioners, ductwork, thermostats, and ventilation fans. 
To gain these skills, you should complete HVAC technician courses at a trade school or community college. Look for an accredited program that covers both classroom theory and extensive hands-on training. Earning HVAC technician certifications can also help demonstrate your qualifications and expertise to customers.
2. Get Licensed, Bonded, and Insured
To legally provide HVAC services, you will need to get an HVAC contractor license in your state. This usually involves meeting experience requirements, taking pre-licensing education courses, and passing a comprehensive licensing exam. The contents of the exam cover topics like air conditioning systems, heating systems, duct design, HVAC calculations, and local building codes. Licensure helps ensure you have the right technical competency to safely perform HVAC work. Don't skip this step!
You'll also need to get general liability insurance, workers' compensation insurance, and an HVAC bond. Liability insurance covers property damage and bodily injuries. Workers' comp protects any employees you hire. Bonding helps protect customers if you fail to fulfill your contractual obligations. Having proper insurance and bonding is crucial - it protects you, your workers, and your clients. Customers will want proof of coverage before hiring you.
3. Scout Out the Competition
Do some market research in your intended service area to identify and analyze your potential competitors. How many other HVAC companies are already established in the region? What services do they offer? What rates and pricing models do they utilize? How do they market and brand themselves? Studying the competition can reveal helpful insights about customer needs, unfilled niches, and reasonable rates to charge in your local market.
Drive around town and look at competitors' vehicle branding and advertising. Search online directories and social media to see HVAC services offered and customer satisfaction levels. Don't outright copy what leading businesses are doing, but use it to make strategic decisions as a new entrant. With market research, you can differentiate and set your HVAC business apart.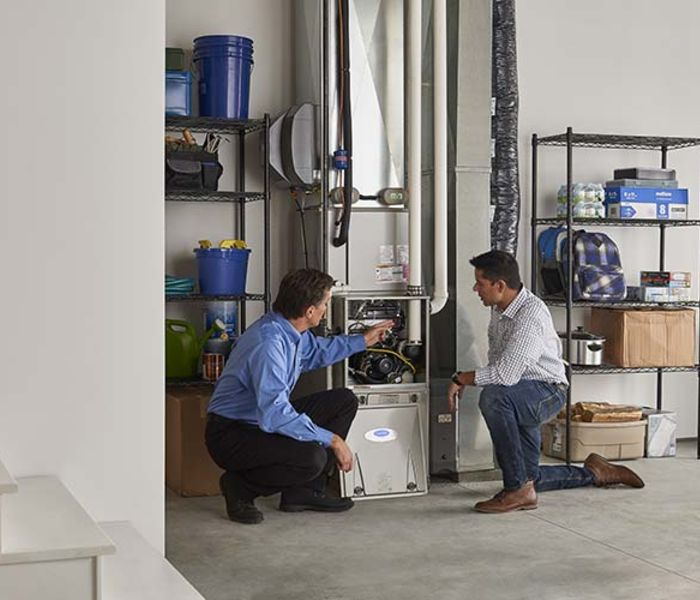 4. How to Start an HVAC Business? Choose a Memorable Business Name
Select a great name for your HVAC business that is catchy, descriptive, and memorable. Short and simple names like "AC Pros" or "Heat Techs" are ideal. Using descriptive words related to HVAC, like heating, cooling, air, HVAC, or comfort, help customers immediately understand what you do. You can also incorporate your own name or your city. Get creative, but avoid anything too complex or easy to forget.
While puns can be fun, HVAC business names with puns and wordplay are a bit overdone, like "Aire Today, Gone Tomorrow." Make sure your name is professional rather than gimmicky. Do searches to ensure your name isn't already being used. The goal is to choose something unique and recognizable so customers remember it.
5. Register Your Business
Once you have a business name, it's time to choose a legal business entity structure and officially form your business. Common options like LLC (Limited Liability Company), S-Corp (S-Corporation), and sole proprietorship each have different requirements, protections, and tax implications you'll need to consider. Consult an accountant or lawyer to determine the best structure for your HVAC business.
Then you can register your business with the state by filing formation documents and obtain necessary tax IDs, permits, and licenses. Register the business federally and at the state level. This makes your HVAC business fully compliant and legitimate. While administrative tasks aren't glamorous, properly setting up your business legally protects you down the road.
6. How to Structure an HVAC Business? Create a Detailed Business Plan
Every new business needs a business plan—and HVAC companies are no exception. A comprehensive business plan outlines your company details, goals, target market, services, competitive analysis, operations, management team, and financial projections. It provides a roadmap as you build and grow your HVAC business.
The plan should cover your mission statement, business description, licenses and certifications, startup costs, pricing models, equipment needs, shop or office location, prospective employees, accounting methods, insurance coverage, and more. Defining marketing strategies and sales tactics is essential. Writing the plan takes work up front, but the insights gained are invaluable for successfully launching your new HVAC venture.
7. Design Your Branding and Website
An HVAC business needs a logo, color scheme, and professional website to market services and build your brand. Your logo and colors will be used across your website, business cards, vehicle signage, uniforms, invoices, ads, and all platforms. Pick something simple, memorable, and reflective of your business.
Your website serves as a 24/7 advertisement and first impression of your company for potential customers searching online. It should have your business name, contact info, list of HVAC services, service areas, brief team bios, project photos, customer testimonials, and online appointment booking. A good website conveys professionalism and helps convert visitors into paying clients.
*One of the most important things to do as a new business is make sure you have a live Google My Business. This is what customers will find when searching for an HVAC technician or company near them. They will see your pictures, reviews, and call right to your business without ever even visiting your website.
8. Spread the Word and Promote Your Business
When starting an HVAC business, you'll need to actively promote your new company and services to gain customers, especially in the first year. Create social media business pages on Facebook, Instagram, etc. Run local online ads on Google and Facebook. Print professional flyers, postcards, and coupons to mail to neighborhoods. Partner with contractors and realtors to offer referral bonuses or discounts.
Ask happy customers to post online reviews and refer family and friends. Sponsor community events to get involved locally. The goal is to maximize exposure, so area homeowners looking for HVAC help call you first. Promoting a new business takes consistent time and effort, but it's well worth it for generating customer demand.
9. Outfit Your HVAC Vehicle or Vehicles
Every HVAC business needs a suitable work vehicle like a cargo van or truck. This serves as your mobile office and allows you to efficiently dispatch to customer locations with all your necessary equipment and tools. Start with just one vehicle and expand your fleet as the business grows. Consider wrap advertising your business name, logo, phone number, and website on the vehicle to essentially turn it into a moving billboard.
10. Set Your Service Rates and Billing Process
As a business owner, you'll need to determine fair rates to charge customers for your HVAC services. Research reasonable rates in your region and establish hourly, half-day, full-day, or per-service rates. Factor in your operating expenses, payroll, parts costs, and desired profit margins. You may charge different rates for air conditioning, heating, ductwork, maintenance plans, commercial vs. residential clients, etc.
11. Focus on Providing Excellent Service
Above all, the key to succeeding in the HVAC business is providing exceptional service to your clients. Establish a reputation for quality workmanship, integrity, responsiveness, transparency, and professionalism. Train any employees in best practices and customer service skills. Utilize tracking software and provide appointment reminders and arrival ETA notifications.
During service calls, take time to thoroughly explain issues, solutions, work performed, options, and costs to the customer. Leave their home clean and be mindful of minimizing disruption. Follow up promptly on warranty claims and unfinished projects. Go the extra mile in taking care of your customers—your reputation and HVAC success depend on it.
About Humble HVAC Repair Pros
Our company only hires the best in the business! We're all fully licensed, bonded, and insured for your protection. When you need affordable and high-quality HVAC services, please don't hesitate to call us at (281) 336-9448 for an appointment. We offer 24/7 emergency availability.